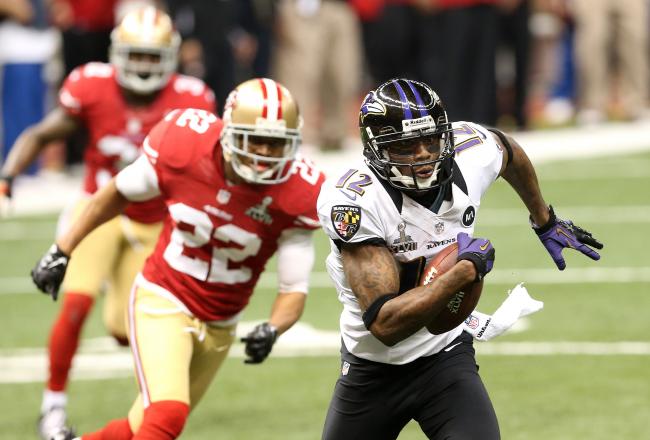 Ronald Martinez/Getty Images
We know the San Francisco 49ers can run it, throw it and defend the run.
It's their ability to defend the pass that could be the difference between glory and disappointment in 2013.
Struggles in the secondary certainly cost the Niners in Super Bowl XLVII against theBaltimore Ravens. Joe Flacco threw for 287 yards and three touchdowns. He had no turnovers and helped the Ravens convert nine of 16 third downs.
Since that game, the 49ers lost starting free safety Dashon Goldson and drafted his replacement, Eric Reid, with the 18th pick in the 2013 NFL draft.
Reid is a total wild card, but the rest of San Francisco's secondary looks awfully similar to last year's unit.
Is that a cause for concern?
It may not be as big of an issue as 49ers detractors might think.
Overview
How many times did the average 49ers fan pound his head against the wall because Carlos Rogers was burned by the opposing slot receiver? Or what about the times when Donte Whitner was just a step too slow against the opposing tight end?
They had their issues at times, but overall the San Francisco secondary graded among the best in league in 2012.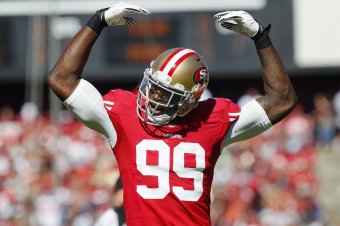 Aldon Smith had more than half of San Francisco's sacks in 2012.
Brian Bahr/Getty Images
The 49ers ranked fourth in Pro Football Focus' pass coverage stat last year (subscription required). They unquestionably struggled in the playoffs, but it wasn't all on the secondary. The pass rush was almost completely nonexistent with Justin Smith and Aldon Smith playing hurt.
In fact, the pass rush was pretty average all year.
The 49ers ranked 18th in Pro Football Focus' pass-rushing stat (subscription required). Aldon Smith had 19.5 of San Francisco's 38 sacks. When he was shut down, the Niners' rush was shut down.
Part of the reason for the 49ers' average sack total was defensive coordinator Vic Fangio's lack of blitzing. San Francisco frequently dropped seven players into coverage on third downs, which helped boost its pass-coverage grade.
Still, the secondary deserves credit for allowing just 6.1 yards per attempt in the regular season, which was the second-best mark in the league.
Cornerbacks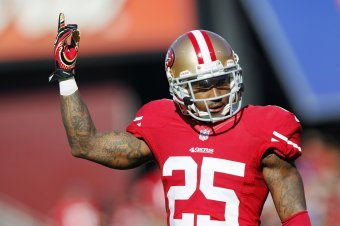 Tarell Brown is scheduled to be a free agent after the 2013 season.
Brian Bahr/Getty Images
Tarell Brown continues to be the best-kept secret on the 49ers. He had the 13th-highest cornerback score in 2012 (subscription required), beating out more-hyped stars Brandon Browner, Joe Hadenand Leon Hall.
Chris Culliver and Rogers were no slouches either. Culliver ranked 29th overall, and Rogers finished 46th (out of 113 qualified corners).
Nnamdi Asomugha was 101st in that stat. Unless he returns to 2010 form, when hewas sixth in Pro Football Focus' pass coverage stat among cornerbacks (subscription required), he'll likely have a hard time making the team.
Still, with three solid options, the 49ers should be above average at the cornerback position.
The back end of the secondary could be the bigger issue.
Safeties
Goldson will not be easy to replace. He ranked 10th in Pro Football Focus' pass coverage stat among safeties in the 2012 regular season (subscription required).
Although many will remember him for his blown coverages against the Falcons and Ravens in the playoffs, he was a turnover-creating machine in his Niners tenure and deserved his Pro Bowl selection in 2012.
Whitner, meanwhile, absolutely did not deserve his Pro Bowl selection. He ranked 68th in Pro Football Focus' pass coverage stat (out of 88 qualified safeties), and he saved one of his worst performance for last against the Ravens.
U
With Whitner losing a step, it becomes all the more important that Reid stabilized the last line of defense.
At LSU, Reid wasn't a ball hawk. He had just six interceptions in three collegiate seasons.
However, keep in mind thatGoldson had just four interceptions in his college career. He was slower and less productive than Reid in college, yet he became one of the most-feared safeties in the NFL.
If Reid can develop quickly with the help of the San Francisco coaching staff, he could be an instant sensation.
If he struggles in the transition, the Niners might be forced to start a combination of Whitner and Craig Dahl, which sounds like a recipe for disaster—unless the opposing quarterback has no time to throw, which will be Plan A next season with San Francisco's beefed up pass rush.
Improved pass rush
By drafting two pass-rushers with their first four picks of the draft the 49ers sent a message: They need more pressure from their front four.
Tank Carradine and CoreyLemonier will get their chances rushing out of 4-2-5 nickel defense next season, and it's critical that at least one of them becomes a threat opposite Aldon Smith.
Even better would be the return of the 2011 version of Justin Smith. He ranked first among 3-4 defensive ends in Pro Football Focus' pass-rushing stat that season (subscription required).
Having Carradine, Lemonier and Glenn Dorsey in the pass-rushing rotation should keep all the rushers fresh. This could lead to more production from Ray McDonald and Ahmad Brooks, who combined for just nine sacks in the 2012 regular season.
The play of the secondary often goes hand in hand with the pass rush. The 49ers added more edge-rushing talent, which could help offset any drop-off in the play of the secondary.
Conclusion
In Fangio's two years as defensive coordinator, the 49ers have finished second in scoring defense both times. This defense is way too talented to see a big drop in effectiveness just because it lost Goldson.
Still, even a slight drop-off could cost the Niners the NFC West division title, and with a rookie potentially starting at free safety, a drop-off is a possibility.
What is San Francisco's biggest defensive weakness?
However, improvement in other areas seems likely.
Culliver has come a long way in his first two seasons. He has the potential to take Rogers' starting spot and be a shutdown corner opposite of Brown. And even if Culliverdoesn't make the leap, Rogers could be in for a bounce-back year. Don't forget that heranked seventh in Pro Football Focus' cornerback score in 2011 (subscription required).
But what the 49ers are really banking on is a much more effective pass rush.
In 2011, San Francisco ranked second in Pro Football Focus' pass-rushing score (subscription required). Not surprisingly, all the pressure led to a league-high 38 takeaways.
The takeaway number dropped all the way to 25 in 2012.
As long the 49ers get a healthy and productive Justin Smith to go along with a more well-rounded pass rush, their secondary should be able to create a few more turnovers and bolster a pass defense that once again ranks among the league's best.